By Brianna Moore The Entertainer!
"That's one small step for man, one giant leap for mankind."
On July 16, 1969, astronauts Neil Armstrong, Buzz Aldrin and Michael Collins embarked on a valiant mission to become the first people to successfully land a spacecraft on the moon.
After about 76 hours of space travel, on July 20, Aldrin and Armstrong took their first strides on the moon's surface.
This year marks the 50th anniversary of the groundbreaking Apollo 11 moon landing. To commemorate this historical event, venues across the Valley will host various events to celebrate this success.
Here is a roundup of some of the more prominent events.
Arizona Diamondbacks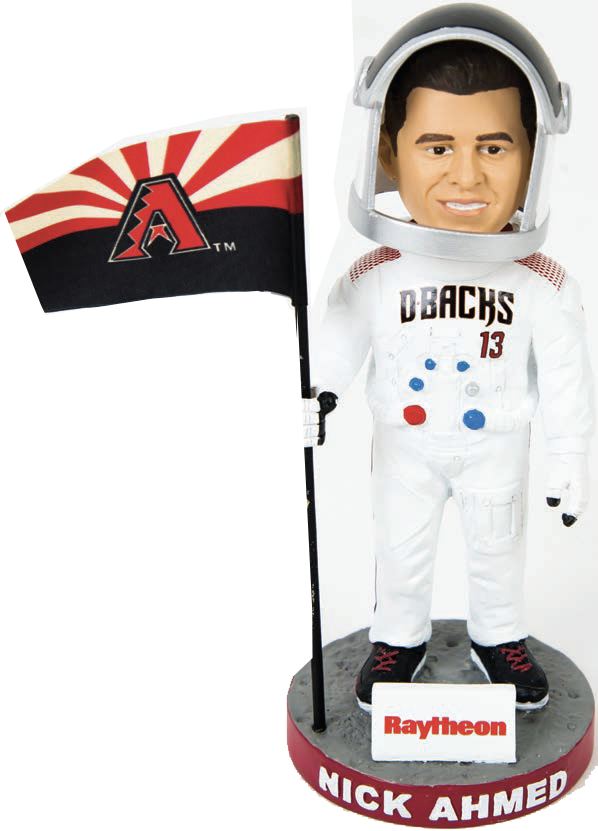 Nick "Ahmed on the Moon" Bobblehead will be handed to the first 20,000 fans through the gates at Chase Field on July 20.
The D-backs take on the Milwaukee Brewers on the 50th anniversary of the moon landing.
"It's not unflattering," Ahmed says with a laugh in the D-backs clubhouse. "It's cool. I had a bobblehead when I was in Triple A. I think I have one of them maybe."
Chase Field, 401 E. Jefferson Street, Phoenix, 602.514.8400, dbacks.com, 5:10 p.m., tickets start at $25.
Arizona Science Center
The Arizona Science Center will host space-themed events throughout July, giving guests a variety of ways to celebrate.
The science center began celebrating the Apollo 11 anniversary in June with its "Girls in STEM Overnight Event," which aimed to get fourth to eighth grade girls interested the STEM fields.
"We're not just looking back at the past, but we're also looking at the future," says Sari Custer, chief scientist at the Arizona Science Center. "We want to celebrate where we've been, and we're excited about where we're going.
"We're blasting off with a lot of science this summer. We're always looking to inspire and engage through science. We really want to spark excitement about space science."
Its upcoming events include:
• Special Speaker Series: July 6. Although the science center has yet to announce this month's guest, staff does know he/she will be "out of this world." Admission is free.
• STaR Space Module: July 8 to July 12. This event is intended for Arizona science teachers who teach third to eighth grade. This immersive program is designed to assist teachers by showing them different methods for capturing student's interests in STEM subjects. Teachers will also have the opportunity to learn from STEM experts and take fieldtrips to witness real-world STEM applications. This is supported by the Helios Education Fund and will run for five days for teachers at no cost.
• Rocket Build with Boeing: July 13 to July 14. Volunteers from Boeing will be at the Arizona Science Center helping visitors build their rockets in preparation for launch day on July 16. Families can visit the science center over the weekend to build rockets.
• Global Rocket Launch Day / Observe the Moon Family Night: July 16. The U.S. Space and Rocket Center in Huntsville, Alabama, will host a nationwide rocket launch to commemorate the Saturn V rocket launch 50 years ago. The Arizona Science Center will take part by allowing visitors to launch rockets they built on site. To break a world record, the U.S Space and Rocket Center is looking to launch over 5,000 rockets. To end the night, families will be able to observe the full moon at the science center.
• Apollo 11 Anniversary Family Celebration: July 19 to July 20. The science center will celebrate the moon landing with all-day, family-friendly activities. An original newspaper from the moon landing will be on display for visitors to view. Guests from the science industry will speak about space travel. Boeing representatives will speak about their involvement in the space program. On July 19, the Arizona Science Center will join NASA in its live broadcast on NASA TV and the Discovery Channel. A Mars Rover model will be at the science center.
• Science with a Twist: July 19. Once the family fun is over, adults 21 and older can enjoy Science with a Twist. Visitors can listen to the classic Pink Floyd "Dark Side of the Moon," which will accompany a laser show. There will also be a special showing of "Apollo 11," with never-before-seen footage.
• Teen Night at CREATE: July 27. The Arizona Science Center's Teen Board will host a space-themed event in the CREATE Makerspace. Here, interested teenagers can mix and mingle in the name of science.
Arizona Science Center, 600 E. Washington Street, Phoenix, 602.716.2000, azscience.org, admission varies.
Arizona Mills
Pop Up StoryWalk at Arizona Mills: to August 1. In a partnership with the Tempe Public Library, Arizona Mills will host a story walk, giving parents and children the chance to avoid the summer heat. This StoryWalk will feature "A Moon of My Own," a children's book about a girl who befriends and travels the world with the moon. Written by Jennifer Rustgi, "A Moon of My Own" includes a world map and a diagram to teach children about the phases of the moon. The StoryWalk incorporates physical activities that also promote literacy. This event is meant for the entire family.
Arizona Mills, 5000 S. Arizona Mills Circle, Tempe, 480.491.9700, open during mall operating hours, free admission.
Spirit of the West: Scottsdale's Museum of the West
Spirit of the West: Scottsdale's Museum of the West has out-of-this-world celebrations in store for the anniversary.
• Paul Calle's "Life of Exploration: From the Mountains to the Moon:" to October 20.
Western Spirit: Scottsdale Museum of the West is home to one of the first art exhibits to begin celebrating the Apollo 11's 50th anniversary. The exhibit features artwork and artifacts from American artist Paul Calle. The artist behind the design of the 1969 First Man on the Moon stamp, Calle spent his career documenting moments in American history through his artwork. Calle was an artist for NASA and the only artist present during the pre-launch of the Apollo 11 mission in 1969. He sketched the astronauts eating breakfast and suiting up. This art exhibit includes Calle's famous sketches and oil paintings, as well as a model of his art studio.
• Apollo 11's 50th Anniversary: Smithsonian Channel's Film Viewing: July 20
Looking for a "cool" way to celebrate Apollo 11's 50th anniversary? Join SMoW and beat the heat in July by coming in to see "The Day We Walked on the Moon," a Smithsonian Channel documentary that marks the 50th anniversary of man's first steps on the lunar surface with interviews from key figures in Mission Control, contemporary astronauts and the families of Aldrin and Armstrong. The movie will air at 11 a.m., 1 p.m. and 3 p.m. SMoW's Virginia G. Piper Charitable Trust Theater and also 1 p.m. Saturdays and Sundays through August. Museum admission is required to view the film and includes the full museum tour featuring Paul Calle's "Life of Exploration: From the Mountains to the Moon."
Spirit of the West: Scottsdale's Museum of the West, 3830 N. Marshall Way, Scottsdale, 480.686.9539, open during operating hours, prices may vary.