There's something special about the Valley's historic hotels for both locals and visitors alike. These locales aren't just "old buildings" but also living landmarks where you can see – and be a part of – local history.
While historic hotels dot the Valley and the state in droves, here are ten of our favorites.
1. The Hermosa Inn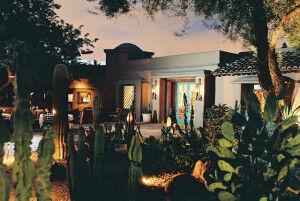 Described as a "boutique hideaway," The Hermosa Inn in Paradise Valley was located far beyond the Phoenix city limits in the 1930s. Founded by cowboy artist Alonzo "Lon" Megargee, the Inn has a fun history that mirrors the eclectic decades of its existence and its array of owners.
It is said to be haunted by Megargee's ghost. Hotel guests and staff claim to see the shadowy cowboy at the inn and hold his spirit responsible for self-flushing toilets and glasses breaking mysteriously in the middle of the night. Lon's legacy also lives on in the award-winning restaurant named for him at the Hermosa, and in other areas of the Inn, which includes 34 hacienda-style accommodations and casitas on more than six acres of desert landscaping. The Inn was restored to its original charm in the 1990s and is still popular among patrons wanting a more secluded getaway.
The Hermosa Inn, 5532 N. Palo Cristi Road, Paradise Valley, AZ 85253 | (602) 955-8614
2. Crowne Plaza San Marcos Golf Resort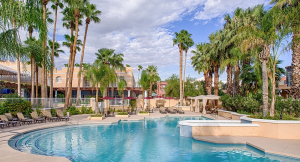 With more than a century of history behind it, the Crowne Plaza San Marcos Golf Resort was the first-ever golf resort in Arizona. Built in 1912 by Dr. AJ Chandler (yes, the founder of the city), the resort played a prominent part in the history of the area. It was named after Friar Marcos de Niza who is said to have visited the Chandler area in 1539 while searching for the mythical "Seven Cities of Cibola."
Some 500 people, including then-U.S. Vice President Thomas Marshall who served under then-President Woodrow Wilson, attended the grand opening of the facility which, at that time, included 35 guest rooms, a lobby and a dining room. President Herbert Hoover, fashion designer Christian Dior, and Hollywood stars Errol Flynn and Joan Crawford are among the famous guests known to patronize the San Marcos.
The resort now boasts 295 spacious guests rooms and suites and first-class amenities. Located in downtown Chandler, the Crowne Plaza San Marcos Golf Resort remains a popular spot for out-of-towners and weddings.
Crowne Plaza San Marcos Golf Resort, 1 San Marcos Place, Chandler, AZ 85225 | (480) 812-0900
3. Hotel Valley Ho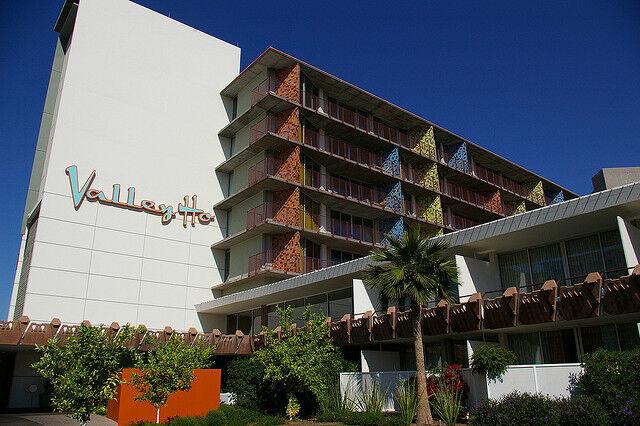 Described as "one of the country's best examples of preserved mid-century architecture," Hotel Valley Ho was built in 1956 from a "futuristic" design conjured up by Edward L. Varney, a student of renowned architect Frank Lloyd Wright. The hotel attracted famous movie stars and athletes of the day and became known for its trendsetting atmosphere.
Hollywood stars Robert Wagner and Natalie Wood famously celebrated their wedding reception at the Hotel Valley Ho. Baseball stars Ted Williams and Joe DiMaggio were also among those reported to have stayed there. Despite a full restoration and modernization, the hotel and spa still retains its mid-century-modern style and you can easily walk to many Downtown Scottsdale amenities.
Hotel Valley Ho, 6850 E. Main St., Scottsdale, AZ 85251 | (480) 248-2000
4. Royal Palms Resort and Spa
According to hotel reps, "Royal Palms offers guests the rare opportunity to enjoy rich amenities of a resort all within the walls of a storied estate." The hotel's history dates back to 1929 when the estate served as a winter home for New York industrialist and financier Delos Willard Cooke and his wife Florence.
Among the many hands in which the estate came into ownership were those of former band leader Al Stovall who led the effort to transform the home into an inn. Adding 15 casitas to the west of the original home and converting the main house into guest rooms, a reception area and dining room, Stovall and his business partners opened the estate's doors to guest stay at the newly named Royal Palms Inn in 1948.
Although there were more ownership changes over the decades, the resort maintains its classic charm paired with modern touches. It is a member of the Historic Hotels of America.
Royal Palms Resort and Spa, 5200 E. Camelback Rd., Phoenix, AZ 86018 | (602) 840-3610
5. The Wigwam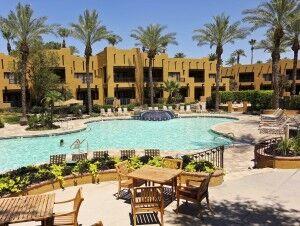 Part of the West Valley's rich heritage, the Wigwam was originally built by the Goodyear Tire & Rubber Company to house the company's sales executives. It officially opened on Thanksgiving Day in 1929 with enough room for 24 guests before expanding to the 331-room resort it is now.
The original structure, the Organizational House, "remains as the cornerstone of The Wigwam's authenticity and southwestern charm" although the resort later added golf courses, spas, new rooms, and more across almost 500 acres. In 2011, under the ownership of sports legend and NBA Phoenix Suns owner Jerry Colangelo, The Wigwam underwent a multi-million dollar renovation and relaunch that added new programs and features to the resort, including community events such as an arts festival and weekly Farmers Market.
The Wigwam, 300 E. Wigwam Blvd., Litchfield Park, AZ 85340 | (623) 935-3811
6. Arizona Biltmore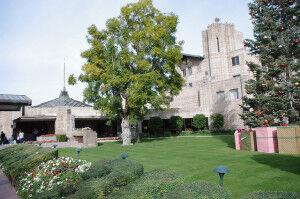 Perhaps one of the best-known hotels in the Phoenix metro area, the Arizona Biltmore bears the title "jewel of the desert" even after more than 85 years. Over those years, it saw plenty of remodeling and changes but still retains its classic charm.
The hotel's historic Catalina Pool was said to be a favorite of Hollywood icon Marilyn Monroe and boasts being the site where famed song composer Irving Berlin penned some of his classic tunes including, "White Christmas."
Showcasing the influence of renowned architect Frank Lloyd Wright, the Arizona Biltmore remains one of the largest hotels in the state and one of Arizona's largest event venues as well.
Arizona Biltmore, 2400 E. Missouri Ave., Phoenix, AZ 85016 | (602) 955-6600
7. Hotel San Carlos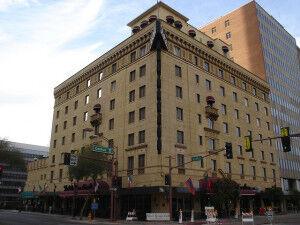 Continuously run since 1928, this historic boutique hotel features 128 individually decorated guest rooms. Located in the heart of downtown Phoenix, it's a popular place for area visitors who want an off-the-beaten-path stay while being close to the city's most popular tourist attractions.
Aside from a history of hosting members of Hollywood's Golden Age, there are reports of ghost sightings including the apparition of a young woman who jumped off the roof in 1928, shortly after the hotel opened.
Hotel San Carlos, 202 N. Central Ave., Phoenix, AZ, 85004 | (602) 253-4121
8. Starlite Motel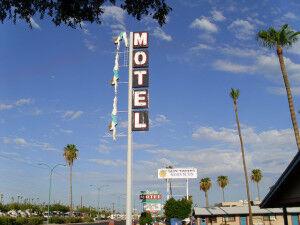 While not as fancy as some of its historical counterparts, the Starlite Motel in Mesa is well known for its "Diving Lady" neon sign and economical rooms. More than half a century old, this 1960 roadside landmark made headlines more recently in 2010 when the "Diving Lady" crash landed on the pavement after a powerful storm knocked her off her perch.
Her fate was initially unknown as Starlite's owners struggled to come up with the funds to restore her place on the motel's marquee. But, with the help of community leaders and nostalgic fans, the diving lady was able to resume her illuminated, pole-suspended sign dive in 2013.
Starlite Motel, 2710 E. Main St., Mesa, AZ 86213 | (480) 964-2201
9. The Clarendon Hotel and Spa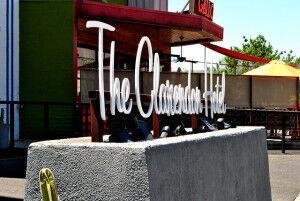 A boutique hotel in the heart of downtown Phoenix, The Clarendon Hotel houses an amazing rooftop pool, a spa, and deluxe dining. It's also home to a one-of-a-kind history that includes tales of old Hollywood celebrities, haunted rooms and a car bombing outside of the hotel that claimed the life of Arizona Republic reporter Don Bolles in 1976 – four years after its opening in 1972. Today, after a major renovation in 2007, the hotel attracts a younger crowd interested in its modern amenities that blend well with its historic charm.
The Clarendon Hotel and Spa, 401 W. Clarendon Ave., Phoenix, AZ 85013 | (602) 252-7363
10. JW Marriott Scottsdale Camelback Inn Resort and Spa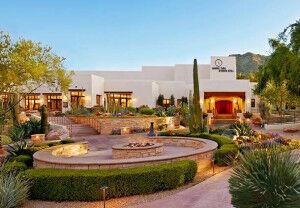 Built in 1936 by Jack Stewart and John C. Lincoln, the JW Marriott Scottsdale Camelback Inn Resort was, and continues to be, popular among the Hollywood and political elite. Notable guests that have stayed at the hotel include Clark Gable, Bette Davis, Jimmy Stewart, former president George Bush along with first lady Barbara Bush, and media mogul Oprah Winfrey. The resort still maintains its historic charm and contributes to the area's growth.
JW Marriott Scottsdale Camelback Inn Resort and Spa, 5402 E. Lincoln Drive, Paradise Valley, AZ 85253 | (480) 948-1700
– Michelle Talsma Everson/Suzanne Wilson, Phoenix.org