Whether you're visiting the Valley or planning a staycation, there are plenty of places to make you feel like you are a thousand miles from home.
Luxury hotels in and around the Phoenix metro area are not difficult to find. In fact, the toughest decision one might have is in choosing which one of these pampering palaces to experience. Sunny, dry weather makes the Valley a hot destination spot year-round. And local luxury hoteliers take pride in making their accommodations inviting for visitors looking for recreation and relaxation of the five-star variety.
Here is a look at some of the best in luxury hotel and resort accommodations the Valley has to offer.
1. Sanctuary Camelback Mountain Resort and Spa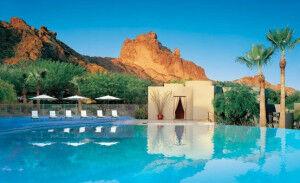 Limestone casitas built into rugged terrain gives the Sanctuary resort a rustic feel for visitors upon arrival. But inside the 105 guest rooms that dot the 53 acres alongside Camelback Mountain lies a world of escape – vibrant and vital – for even the most world-weary visitor. It's no wonder so many Hollywood stars seek out Sanctuary to find a little, well – sanctuary. Outdoor soaking tubs, lava rock fireplaces, an Infinity pool and Asian-inspired spa treatments make this a popular getaway for couples and those traveling solo.
Sanctuary has attracted many celebrities including actress Jennifer Aniston and pop stars Britney Spears, Beyonce and Jay Z, to name a few.
www.sanctuaryoncamelback.com | (480) 948-2100
2. Firesky Resort and Spa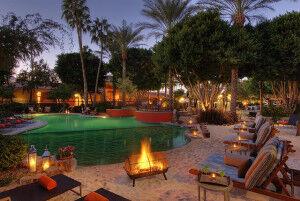 Experience the elements in play at Scottsdale's Firesky Resort and Spa. Fire, water, earth and air are represented in the architecture and themes that run throughout this pet-friendly luxury boutique hotel. The grounds at Firesky include a sandy beach pool and a Mediterranean-inspired lagoon, along with a lush garden courtyard and intimate spots for sitting and relaxing with fire pits and fountains.
Pets are welcome at no charge and the hotel provides complimentary food bowls and a pet bed during guest stay.
www.fireskyresort.com | (480) 945-7666
3. Hotel Palomar Phoenix CityScape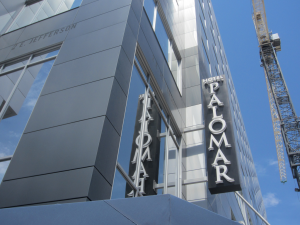 Situated in downtown Phoenix, Hotel Palomar Phoenix CityScape gets high marks for its spacious modern decor and trendy atmosphere. This luxury boutique hotel boasts a rooftop pool overlooking downtown Phoenix and offers complimentary bikes to cruise around the city. Guests can also enjoy the hotel's on-site salon and spa, as well as live afternoon entertainment at Palomar's rooftop garden.
Hotel Palomar hosts an evening social hour for all guests every night from 5 p.m. to 6 p.m.
www.hotelpalomar-phoenix.com | (602) 253-6633
4. Arizona Grand Resort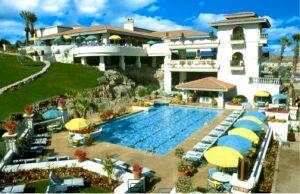 Fitness, family and fun fuel the feel of Phoenix's Arizona Grand Resort. With its 20,000 square-foot Athletic Club and an eight-story tower – complete with three water slides, this resort was built with the active guest in mind. The grounds also include an award-winning par 71 golf course and a spa facility that puts emphasis on the resort's desert environment with mud treatments and body masks. Visitors can also take advantage of the resort's Sonoran Desert surroundings with a walking tour through the nearby South Mountain Preserve.
The resort has a limited number of Villas for ownership, if a week long visit to Arizona Grand is just not enough.
www.arizonagrandresort.com | (602) 438-9000
5. The Clarendon Hotel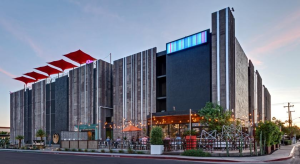 Breathtaking views of Phoenix's skyline surround The Clarendon Hotel from its Rooftop Sky Deck. It's just one of a number of features that makes this locally-owned hotel a popular luxury retreat for visitors along with the Clarendon's Oasis Pool and a stunning 60-foot, two-story glass water wall – one of the largest in the world. Poolside cabanas and a 50-person HydroSpa are also among the Clarendon's highlights.
The hotel offers complimentary breakfast in one of the on-site restaurants, free snacks and live jazz on the Sky Deck on designated days.
goclarendon.com | (602) 252-7363
6. Sheraton Wild Horse Pass Resort and Spa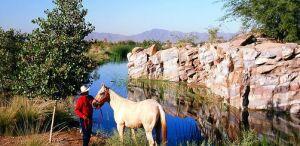 The heritage and culture of the Gila River Indian Community is reflected throughout the Sheraton Wild Horse Pass Resort and Spa in Chandler. This sprawling, 500-room destination resort includes two 18-hole golf courses, a 17,500 square foot spa with 17 treatment rooms and an Equestrian Center for riding lessons, trail rides and outdoor events. Guests can also enjoy four different pools with cascading waterfalls and a 111-foot waterslide modeled after the ancient Casa Grande Ruins.
The resort also features a 2.5-mile replica of the Gila River that winds through the resort grounds with scenic boat rides.
www.wildhorsepassresort.com | (602) 225-0100
7. JW Marriott Desert Ridge Resort and Spa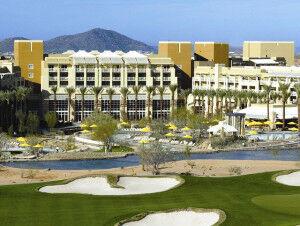 Big on size and big on luxury, the JW Marriott Desert Ridge Resort & Spa is the largest resort in the state of Arizona. With 950 guestrooms, this award-winning resort is set on 316 acres in the Sonoran Desert in North Phoenix and features panoramic views of the McDowell Mountains. Almost every turn at Desert Ridge spells grandeur and serenity with the resort's swimming pools, waterways, golf courses and overall architectural design.
Desert Ridge's 28,000 square-foot Revive Spa has been ranked among the best in the Valley.
www.marriott.com | (480) 293-5000
8. Boulders Resort & Spa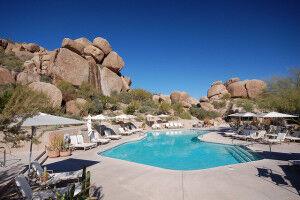 Awe-inspiring views and 12 million-year-old boulder formations offer a scenic backdrop for guests visiting the Boulders Resort & Spa near Scottsdale. One of the country's most prestigious resort destinations, the Boulders is widely acknowledged for its environmentally sound landscaping, allowing the area's natural flora and fauna to grow organically. The Boulders' secluded location amid desert terrain gives visitors access to many outdoor activities such as swimming, hiking, and rock climbing.
A pet-friendly environment, the Boulders Pet Program offers a gourmet pet food menu, in-house baked treats and pet photography.
www.theboulders.com | (480) 488-9009
9. The Phoenician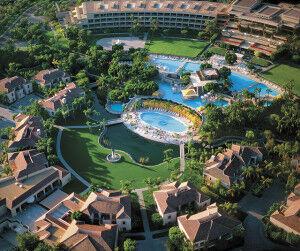 Long considered the gold-standard for luxury in the Valley, The Phoenician aims to please whether you're traveling for business or for pleasure. This large modern resort hotel boasts amenities such as a tennis complex, 3 nine-hole golf courses, a full-service spa and plenty of restaurants and lounges. Prominently placed at the base of Camelback Mountain, the Phoenician offers a picturesque escape for visitors and is a popular destination for weddings.
The Phoenician has an on-site art collection said to be valued at $25 million.
www.thephoenician.com | (480) 423-2449
10. Arizona Biltmore

Marilyn Monroe, Clark Gable and Irving Berlin are among the notable names known to have wandered the grounds and halls of one of Arizona's most historic luxury hotels – the Arizona Biltmore. The resort has welcomed guests since 1929 and continues to draw visitors who enjoy the opulent presence of this revered Phoenix landmark. Among other amenities, the Biltmore offers an award-winning spa, tennis courts, multiple swimming pools and two golf courses.
The Arizona Biltmore has eight swimming pools. The Catalina Pool was said to be a favorite of Hollywood icon Marilyn Monroe.
www.arizonabiltmore.com | (602) 955-6600
– Suzanne Wilson, Phoenix.org