On the short list of America's greatest and most profound architects, Frank Lloyd Wright's imprint can be seen across the U.S. and around the world in the design of iconic homes and commercial buildings.
According to the Frank Lloyd Wright Foundation, an organization dedicated to preserving Wright's legacy and impact, the master architect "designed 1,114 architectural works of all types — 532 of which were realized  — and created some of the most monumental and most intimate spaces in the United States."
Fortunately, Valley residents don't have to travel far to experience Wright's genius. While Madison, WI has Wright's Monona Terrace Center, and the Fallingwater residence he designed sits in Mill Run, PA — right here in our own Phoenix metro, residents have the privilege of exploring some of Wright's greatest design accomplishments.
Here are some of Wright's works that can be seen around the Valley.
1. Arizona Biltmore Resort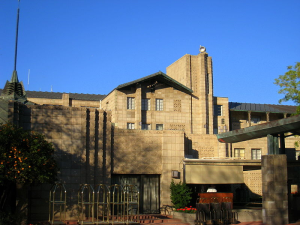 Built in 1927, the Arizona Biltmore Resort is a collaboration between Wright and a former student by the name of Albert Chase McArthur. Most notable to the Biltmore's design is the use of Wright's proprietary engineer concrete block system utilized in some of Wright's Los Angeles residential construction. The "Biltmore Block" system features distinctive geometric pattern, which the Foundation indicates "represents a freshly cut palm tree."
Arizona Biltmore, 2701 E. Arizona Biltmore Circle Phoenix, AZ 85016
2. David and Gladys Wright House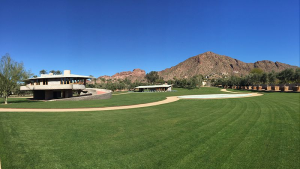 The former residence of Frank Lloyd Wright's son David was built in 1950. This unique structure has a circular-spiral design, which the architect utilized only one other time at his Guggenheim Museum creation. The property is now privately owned and is under restoration for an eventual opening to the public.
David and Gladys Wright House, 5212 Exeter Blvd Phoenix, AZ 85018
3. First Christian Church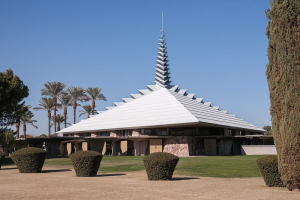 Originally part of a grand Wright masterplan to build a university campus on 80-acres, the First Christian Church was constructed in 1972 —  years after the architect's death in 1959. Its triangular design and diamond shape was based on drawings Wright created in 1949 for the university project which never materialized. The church's unique structure features a 77-foot-high roof and spire. It has been called "one of the 10 best church buildings ever built in America" by the Church Architects Guild of America.
First Christian Church, 6750 N 7th Ave., Phoenix, AZ 85013
4. Grady Gammage Memorial Auditorium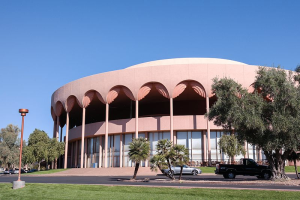 A 3,017 capacity auditorium open to the public, Wright's architectural blueprint called for 50 concrete columns supporting the roof structure, and construction utilizing an inner and outer ring system to house the various areas of the building including the stage, entrance and audience hall. The structure has a distinct auditory resonance, which allows sound to envelop the audience. It was completed in 1964 after Wright's death in 1959. Named for former Arizona State University President Dr. Grady Gammage, the auditorium is located on ASU's main campus in Tempe and is considered to be Wright's final public commission.
Grady Gammage Memorial Auditorium, 1200 S. Forest Ave. Tempe, AZ 85281
5. The Price House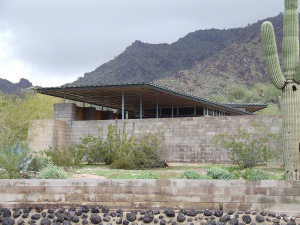 The Price House was built in 1954 as a winter home for Oklahoma businessman Harold Price Sr. and his wife MaryLou Price to entertain their grandchildren. An open air construction built on nine acres, the 5,500-square foot home is the largest of all of Wright's homes in Arizona. It features an elongated structure consisting of seven bedrooms and seven bathrooms, two fountains, expansive garden lawns and a swimming pool. Purchased in 1965 by the founders of U-Haul, the home remains a private residence and is occasionally open for private tours.
Price House, 7211 N. Tatum Paradise Valley, AZ 85253
6. Taliesin West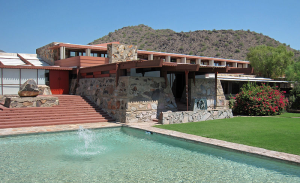 The home of the Frank Lloyd Wright Foundation, Taliesin West, is perhaps the most well-known of Wright's Arizona work. It is the counterpart to Taliesin, Wright's one-time residence in Wisconsin. Consisting of multiple buildings with low-rise features, Taliesin, was built in 1937. It is a National Historic Landmark and open to the public for touring.
Taliesin West, 12621 N. Frank Lloyd Wright Blvd. Scottsdale, AZ 85261
– Tim J. Randall, Phoenix.org