Drive down I-17 between Thunderbird and Cactus Roads in Phoenix and to the west you will see the Calvary Community Church sign with its big, recognizable star. You probably think nothing of it; after all, a star seems appropriate for a church. However, most people don't realize that the star was there first.
Time travel with us back to the 1960s. We're gonna drive waaaaayyyyyy north of Phoenix on the Black Canyon Highway. Out past the edge of the city there are a few scattered houses and businesses, but not much else. Heck, even Metrocenter won't exist until 1972.
There is one other thing out here, though, and that's Westown.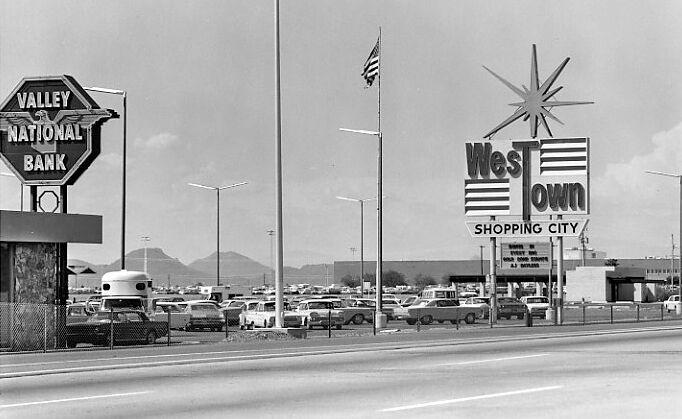 Why Westown sits all the way out here we don't know, but you can see the Westown sign — with that very familiar star — for miles and miles. More than just a mall, Westown holds a whole little community of businesses — hence the moniker "shopping city."
Of course, it includes a Valley National Bank, and — look over there — a nice big A.J. Bayless!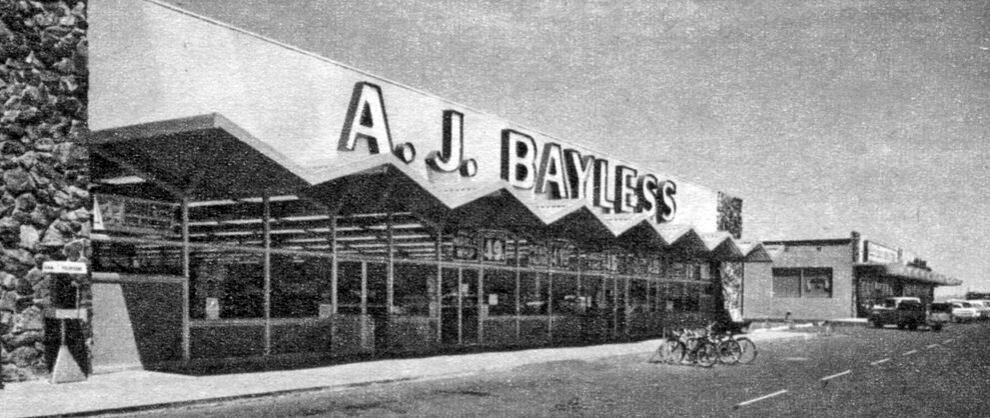 And don't forget T.G.&Y., Para Dimes Laundromat, Westown Union Service Station, Martin's Shoes, the Photo Den, Mary Lee's Beauty Salon, G&E TV Service and Sales, Stretch's Sip & Snack, Ryan Evans Drug Store, Famer's Insurance, Merry-Go-Round Nursery, Econo-Mart, and Pepe's Mexican Food.
Hey, Mexican Food sounds great, and we're hungry. Let's go to Pepe's before we head back to the the modern day! And maybe we'll take a minute and pick up some really inexpensive Christmas presents.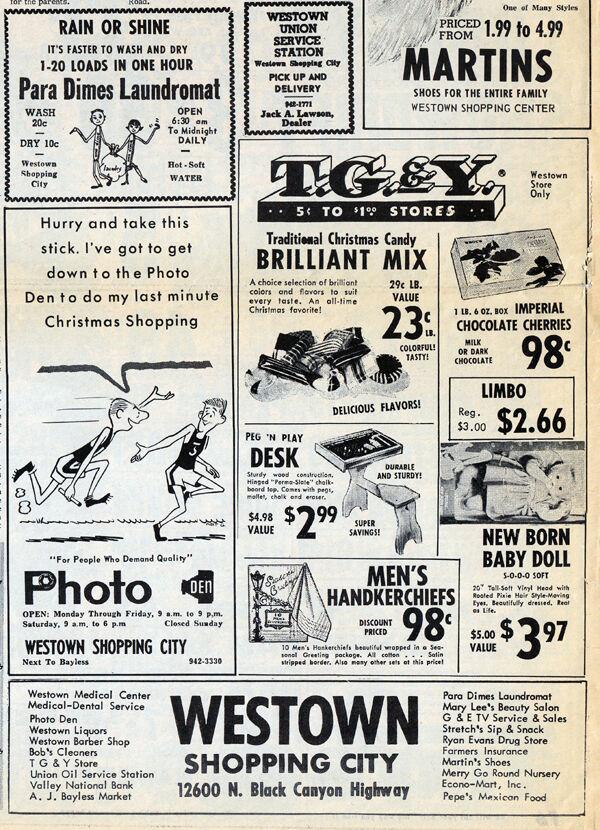 Many of the original buildings of Westown remain. To get a better view of them, drive along 27th Avenue near Larkspur, which is north of Cactus.
– Brad Hall, History Adventuring / Edited for Phoenix.org