Time-travel with us to Phoenix in 1922. The image that we're about to dive into is from the McCulloch Brothers Collection, which ASU just released online recently. It shows the west side of Central Avenue between Adams and Monroe. Specifically, a spot just north of the Heard Building (the one on the left, which is still there).
Oh, in case you're wondering why we say it's 1922, it's because the car to the left sports a 1922 license plate. OK, let's go.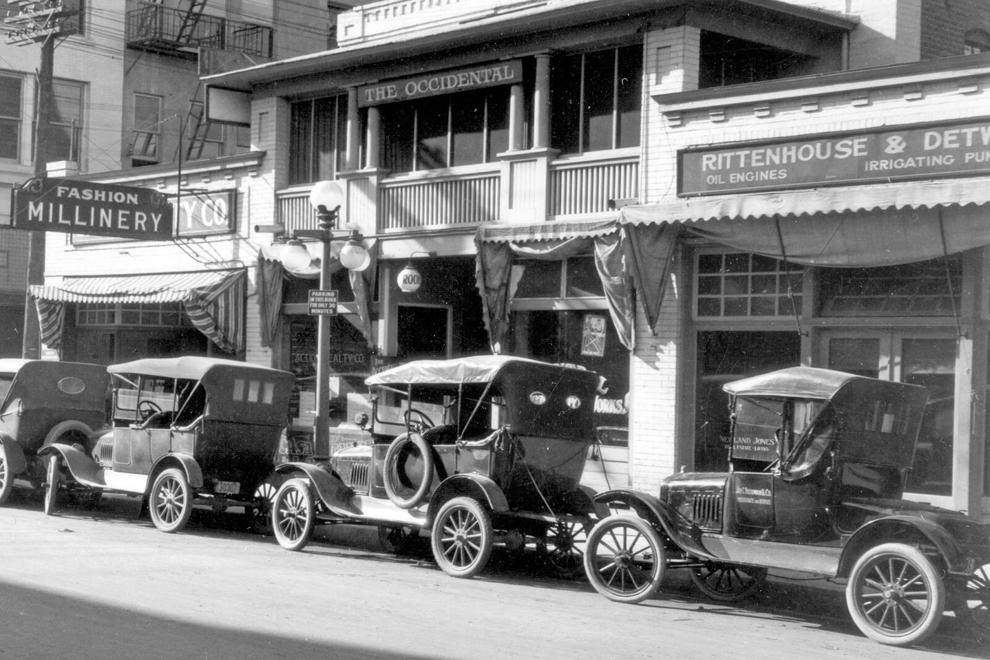 It sure looks like Phoenix is booming in 1922! Here at the Occidental Boarding House, where we're staying, it seems like just about everyone deals in real estate.
There's the Action Realty Company right next to Fashion Millinery, and the Casa Grande Land Company. With all the dust in Phoenix, Central Cleaning Works must get plenty of business.
We're not entirely sure what Rittenhouse & Detwiler does, but they sell "Oil Engines" and "Irrigating Pumps," so it probably relates to agriculture.
Real Estate and Loans go together, that's for sure. And that Model T has the name of someone who sells Insurance and Bonds. Can't quite read the name? Joe Something.
Of course, the big money resides next door in Dwight Heard's new building. It's the tallest building in Arizona – nine stories! He and his wife Maie got rich with their company, the Suburban Land and Real Estate Company. We hear that they like to collect art from all over the world. They'll probably start a museum some day.
Dwight and Maie (Bartlett) Heard became extremely wealthy in Phoenix, and traveled all over the world, collecting art. And they did start a museum, which they built just north of their house. The museum is simply called the Heard Museum, and it specializes in American Indian Art.
The Heard Building (the one on the left) still stands today. It went through a lot of face-lifts, but it's structurally the same. The buildings to the north were razed in 1929, and the new buildings, which were built in the 1930s, are still there.
The Occidental's spot become State Farm and the Valley Bar. You can see how the rest of the street changed from the '20s to today in another one of our history articles.
– Brad Hall, History Adventuring / Edited for Phoenix.org